Tom Hanks Circling an Adaptation of Dave Eggers's The Circle
He would star and produce.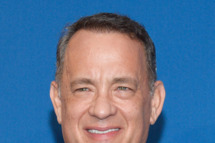 Why star in one Dave Eggers adaptation when you could potentially star in two? After wrapping up a lead role in the adaptation of 2012's A Hologram for the King, Tom Hanks might take a double dose of Eggers with The Spectacular Now director James Ponsoldt's adaptation of Eggers's novel The Circle. Deadline reports that the project would have Hanks attached as one of the movie's leads and producers. The movie would follow the novel's eerie take on the tech world, focusing on a young woman as she gives up her private life to work at the world's most powerful — and transparent — internet company.