The Walking Dead Spinoff Casts Gone Girl Actress As Female Lead
She'll star alongside Cliff Curtis.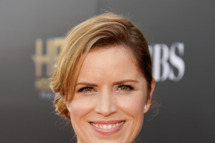 The Walking Dead has finally found an actress to shoot zombies alongside Cliff Curtis for its upcoming spinoff: Kim Dickens! According to Variety, she will play Nancy Tompkins, "a thirtysomething single mom to two kids" who works as a guidance counselor before the zombie apocalypse provides the one crisis she doesn't have a pamphlet for. Dickens is best known for Deadwood, which gave her experience dealing with unspeakable acts of violence, and Gone Girl, which gave her experience acting across from creepy hunks of lumbering flesh.