2015 Bonnaroo Lineup: Billy Joel, Mumford & Sons, and Kendrick Lamar
As well as Childish Gambino, Run the Jewels, and the Growlers.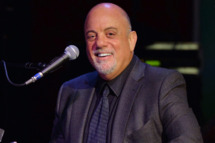 Because it's time to start thinking about how much you want it to be summer, Bonnaroo announced today its initial lineup for its 2015 festival, which will host the likes of Billy Joel; Mumford & Sons; Deadmau5; Kendrick Lamar; Childish Gambino; Flying Lotus; Earth, Wind & Fire; SBTRKT; Run the Jewels; the Growlers; Unknown Mortal Orchestra; and Ryn Weaver, among many, many others, in Manchester, Tennessee. Office alum and Hangover survivor Ed Helms will also return this year to host a bluegrass SuperJam, which will probably be as beautifully Andy Bernard as it sounds. The rest of the first batch bands are detailed here, with the promise of even more acts to come soon. The megafest runs June 11 to 14, and tickets go on sale January 17 at noon.