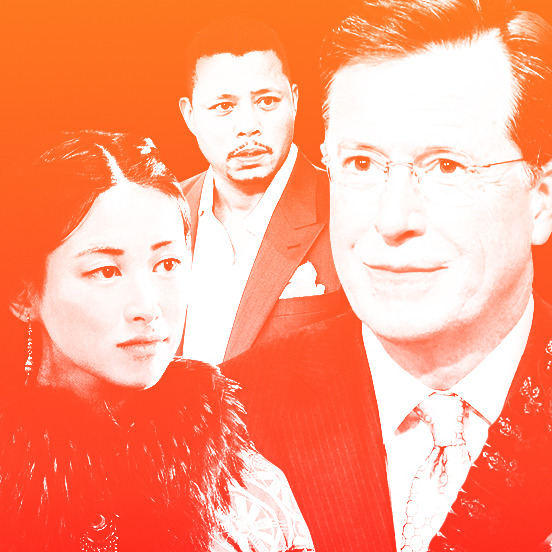 Photo: Maya Robinson and Photos by Netflix, FOX, Getty and HBO
Change comes so quickly in the TV business these days that trying to predict the future even a few months in advance is often a waste of time. Last January, for example, Duck Dynasty was still regularly pulling in upwards of 9 million viewers each week as one of cable's biggest hits, while Fox chief Kevin Reilly was being hailed by some of us in the media as a visionary for his "bold" plan to end pilot season. Twelve months later, Duck can't even quack — er, crack — 3 million viewers, while Fox is pretty much back to making pilots the old-fashioned way — with Reilly no longer an employee of the network. Given how futile forecasting can be, Vulture won't attempt to make any dramatic prediction for what's to come in the TV world as 2015 dawns. Instead, we've decided to focus on what a certain former secretary of defense might call the year's known unknowns— five of the biggest unanswered questions.
How will the stand-alone HBO Go change the TV business?
Game of Thrones fans too cheap (or poor) to shell out the dozens of dollars needed for a cable subscription to HBO won't have to beg, borrow, or steal to see the show in 2015: The pay-cable giant is slated to unveil a stand-alone version of its HBO Go streaming service by the time the Lannisters & Co. return for season five this spring. The internet has been clamoring for just such an option for years, and HBO execs have publicly stated they believe there could be millions of folks willing to pay for à la carte HBO. But it's hardly a given the service will be an out-of the-gate smash. For one thing, unless HBO also decides to start cracking down on password sharing, many potential à la carte subscribers might not see an incentive to start paying for what they now enjoy for free. We also don't know how much HBO plans to charge for the liberated HBO Go: Anything much above the $8–$9 price point established by Netflix and Amazon might depress the early subscriber tally.

Still, the fact that cable's biggest premium network is willing to break out of the cable bundle is a huge deal — particularly since lots of other big media players are also taking the cord-free plunge in 2015. On Monday, Dish used the Consumer Electronics Show in Las Vegas to unveil Sling TV, its (satellite) dish-free streaming service that will offer a dozen networks (including ESPN, Adult Swim, and ABC Family) for $20 a month. CBS, which became the first broadcaster to let viewers subscribe directly to its programming, will likely expand its CBS All Access offering this year, possibly bundling it with the Eye-owned Showtime. Sony is also starting to roll out PlayStation Vue, a Sling TV–like collection of various cable networks to be offered on a streaming-only basis. All of this activity means it will be easier than ever for viewers to pick and choose which networks they want, and how they want to watch. Whether enough of them will remains a mystery.

Will Empire put a halt to Fox's Nielsen slide?
New show launches are almost always a big deal for a network, but last night's debut of the Lee Daniels hip-hop soap Empire, along with the annual return of American Idol, are very important for Fox. The network experienced an absolutely awful 2014: Ratings among adult viewers under 50 collapsed by nearly 20 percent; it launched a series of high-profile scripted and unscripted flops (Rake, Utopia, Gracepoint, I Wanna Marry Harry); promising 2013 hit Sleepy Hollow suffered a massive sophomore slump; and, to cap it all off, longtime boss Kevin Reilly quit (likely realizing his days were numbered).  The mission for Reilly's replacements, new Fox co-chiefs Dana Walden and Gary Newman, is to ensure that last year's disaster doesn't turn into a prolonged slump — like the decade-long depression from which NBC only just recently emerged. And that's why last night was so important.

If Empire works (and we'll get preliminary ratings later today), it will, obviously, give Fox a much-needed new hit and help make up for the coming exit of Glee, the low numbers of the network's Tuesday comedies, and all of 2014's many failures. It will also demonstrate that Fox can still bring audiences to a show that's not tied to an existing franchise the way recent bright spots Gotham  (Batman) and MasterChef Junior (Gordon Ramsay) are. Conversely, failure to launch will signal that Fox's alarmingly low Wednesday, Thursday, and Friday ratings last fall are doing long-term damage to what is any network's most important marketing platform: its own schedule. Fox has been urgently and relentlessly hyping Empire on its shows for months, but with the network now regularly drawing fewer viewers than some cable networks, those promos might be the equivalent of trees falling in an abandoned forest. Fox's backup plan is based on a not-unreasonable theory — that American Idol, while no longer a juggernaut, still has enough of a fan base to serve as a strong lead-in to Empire. But even that's not a sure thing. While Idol opened to 15 million viewers last January, its audience was down to 10 million by May's finale. Idol almost always perks up for premieres, but has the show fallen so far off the cultural radar (and viewers grown so wary of music competitions) that last night's episode doesn't even crack that 10 million mark? Newman and Walden didn't create the mess Fox is in, but they'll know soon enough just what sort of clean-up job awaits them.
 
Will Stephen Colbert's arrival shake up the late-night ratings race — again?
Jimmy Fallon had a very good first year as host of The Tonight Show, dominating the ratings and generating plenty of positive buzz. But the honeymoon could end in 2015. Without the Olympics or NFL, NBC's prime-time lineup figures will weaken considerably in the next few months, potentially hurting Fallon's numbers. The hype over David Letterman's May retirement also threatens to steal away some of Fallon's older audience come spring. But the potential game-changer comes in the fall, when Stephen Colbert takes over CBS's Late Show from Dave. The fictional Stephen Colbert often drew more young viewers on Comedy Central than Letterman did on CBS. If the real Colbert can keep that audience in his new gig (while holding on to some of Dave's loyalists), the combination could make the Eye network a player once again at 11:35 p.m. — and hurt both of the Jimmys (Fallon and ABC's Kimmel, who's been quietly adding viewers opposite his new NBC rival). The end result could be a surprisingly close three-way battle — not ideal for the networks, but great news for fans of great late-night TV.

Of course, the post-prime-time universe no longer revolves completely around the 11:35 p.m. shows on the Big Three networks. Comedy Central, a powerhouse among under-35 viewers, launches the post-Colbert Nightly Show later this month, bringing some diversity to late night via Larry Wilmore. 2015 will also bring resolution to the very open question of whether or not Jon Stewart plans to stick around, and if so, for how long: His contract expires later this year. Finally, it'll be interesting to see what James Corden will do with the less-high-profile 12:35 a.m. slot when he replaces Craig Ferguson as host of CBS's Late Late Show. All signs are that the Into the Woods star is looking to replace canned interviews with elements of a variety show (not unlike what Fallon has done). Variety isn't cheap, however, so Corden's ambitions might be checked by budget realities (unless CBS is willing to spend the extra dollars). 

Has cable's original-programming bubble finally burst?
For decades, broadcast networks watched in agony as cable stole away both buzz and viewers. But while cable remains plenty powerful (AMC's The Walking Dead draws more young viewers than any show on TV), its days of unchecked expansion have been replaced by a problem that once only plagued broadcasters: erosion. Last year, giants such as A&E, USA, and TBS all suffered double-digit ratings declines, losing a bigger percentage of their audience than ABC, CBS, or NBC. What's more, cable lately has been having just as much trouble launching big new reality and comedy hits as broadcasters. Some of these headaches can be attributed to bad programming choices by individual networks: USA and TBS, for example, are paying the price for having failed to evolve their brands and serving up too much of the same kind of shows. But cable's Nielsen woes mostly can be chalked up to the same issues facing broadcasters. Younger viewers' move away from the linear model of watching TV on a schedule to watching (or binge-watching) shows on demand is simply making it harder to launch big hits (even by the modest standards of cable). And the explosion of original scripted content on an ever-increasing number of outlets — even Bravo and E! are now in the drama game — has left viewers struggling to keep up. Audiences likely aren't aware of many of the new shows rolling out, or if they are, they either don't have time to watch them all or are filing shows under, "Maybe I'll catch up when they're on Netflix."

Cable networks have started to respond to these new realities. Some are retrenching, abandoning certain formats (particularly comedy) in order to focus on what's working. Turner, which owns TNT and TBS, recruited former Fox chief Kevin Reilly to shake things up and bring more edge to its shows. (Reilly was at FX during that network's first push into scripted shows with The Shield, and was involved in the development of The Sopranos.) And while USA Network hasn't changed execs, it is looking to new business models as it diversifies its slate. It renewed low-rated cult comedy Playing House, but rather than just roll out season two the usual way, episodes of the show will bow first on USA's VOD service before running on the network proper. That could allow USA to mine some new revenue sources while also (maybe) allowing those who watch episodes early via VOD to promote the traditional linear plays of the show via social media. Cable-industry insiders will be monitoring all these initiatives closely in 2015 to see if the ratings slide can be halted or reversed. If not, some believe it's just a matter of time before the cable bubble bursts and we start seeing some smaller networks go away altogether.  

…. and will streaming networks keep up their momentum?
In the two years since House of Cards debuted on Netflix, the idea of stand-alone streaming-video services competing at the same level as traditional networks has gone from a "maybe one day" theory to the new reality of the TV business. Netflix led the way with Cards, its revival of Arrested Development, and the launch of Orange Is the New Black, all in 2013. Last year Amazon broke through, too: It launched Transparent (which instantly became one of the most critically hailed shows on TV, even if it's not technically on TV) and got mostly positive reviews for Mozart in the Jungle.
But while streaming networks are now legitimate players, they're also not immune to stumbles. As great as 2013 was for Netflix, 2014 saw the network launch no big new successes (though Orange perhaps got even bigger last year). While Bojack Horseman is starting to build some buzz (and has been renewed for season two), it's hardly a breakout. The December rollout of Netflix's action-adventure drama Marco Polo fared worse, garnering decidedly mixed reviews and not much media attention since its premiere (underscoring the downside of releasing all episodes at once). And this week, Amazon proved that streamers can be just as fickle as traditional networks when it confirmed that it was taking back its series order for Chris Carter's The After, having never filmed more than the pilot episode, according to Variety. All of these hiccups may be just that — momentary bumps in the road as execs at Netflix and Amazon continue to figure out the future. Other players, including Yahoo! (with Community) and PlayStation (with Powers) will come online in a big way in 2015, too, potentially providing more creative energy for non-linear TV. But following two jaw-droppingly successful years, streaming TV is clearly moving out of its honeymoon phase to … well, we'll have to see exactly what.