Birdman, Boyhood Dominate Critics' Choice Movie Awards
The former took seven awards, while the latter took four.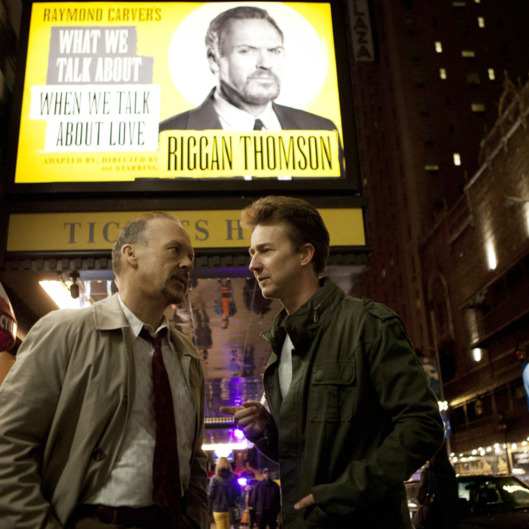 To cap what was already an exciting and crushing Oscar noms day, the 20th Critics' Choice Movie Awards unveiled its winners Thursday night at the Hollywood Palladium. Birdman stole the show with seven awards, while Boyhood stood up for the second most hardware with four. Jessica Chastain took home this year's inaugural MVP award for her workhorse ethic and, during her acceptance speech, made a plea for diversity within her industry. Her words, of course, come on the heels of a wave of criticism that crashed down on the Academy for its not-so-diverse nominations earlier today. Attendees seemed into what she was saying (and rightfully so).
Here's the full list of the night's winners:

Best Picture: Boyhood
Best Actor: Michael Keaton (Birdman)
Best Actress: Julianne Moore (Still Alice)
Best Supporting Actor: J.K. Simmons (Whiplash)
Best Supporting Actress: Patricia Arquette (Boyhood)
Best Young Actor/Actress: Ellar Coltrane (Boyhood)
Best Acting Ensemble: Birdman
Best Director: Richard Linklater (Boyhood)
Best Original Screenplay: Alejandro G. Iñárritu, Nicolás Giacobone, Alexander Dinelaris Jr., Armando Bo (Birdman)
Best Adapted Screenplay: Gillian Flynn (Gone Girl)
Best Cinematography: Emmanuel Lubezki (Birdman)
Best Art Direction: Adam Stockhausen (Production Designer), Anna Pinnock (Set Decorator) (The Grand Budapest Hotel)
Best Editing: Douglas Crise, Stephen Mirrione (Birdman)
Best Costume Design: Milena Canonero (The Grand Budapest Hotel)
Best Hair & Makeup: Guardians of the Galaxy
Best Visual Effects: Dawn of the Planet of the Apes
Best Animated Feature: The Lego Movie
Best Action Movie: Guardians of the Galaxy
Best Actor in an Action Movie: Bradley Cooper (American Sniper)
Best Actress in an Action Movie: Emily Blunt (Edge of Tomorrow)
Best Comedy: The Grand Budapest Hotel
Best Actor in a Comedy: Michael Keaton (Birdman)
Best Actress in a Comedy: Jenny Slate (Obvious Child)
Best Sci-Fi/Horror Movie: Interstellar
Best Foreign Language Film: Force Majeure
Best Documentary Feature: Life Itself
Best Song: "Glory" (Selma)
Best Score: Antonio Sanchez (Birdman)