Fox Ordered a Comedy Inspired by Weezer's Rivers Cuomo
Specifically, the lead singer's return to college.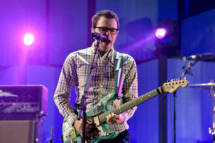 Fox ordered a pilot for a single-camera comedy today that will be loosely based on the real-life back-to-college experiences of Weezer's lead singer, Rivers Cuomo. Psych creator Steve Franks will write the show, called DeTour, and Cuomo will serve as one of the executive producers. Between 1995 and 2006, Cuomo intermittently attended Harvard, where he majored in English and nabbed a spot in Phi Beta Kappa. Fox's project will similarly follow a middle-aged rock star who takes a hiatus from his band to return to college — probably with some raucous embellishments here and there.