Fusion Picks Up 10 Episodes of The Chris Gethard Show
The cable-access show will now just be a cable show.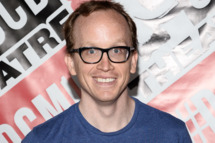 Chris Gethard has finally succeeded at turning his madcap cable-access show into an actual cable show: After an abortive stint at Comedy Central, The Chris Gethard Show will premiere on Fusion in March for a ten-episode run. Now that Gethard is going to be super-famous, now is the right time to remind you that, among all his other gigs, he has written for Vulture; you should definitely read this moving piece about doing improv with Robin Williams.