HBO's Game of Thrones Is Heading to IMAX Screens
From January 23 to 29.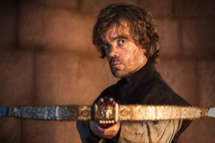 HBO and IMAX have inked a deal that has Game of Thrones set to be the first TV series to ever hit the large-screen format. The network will float a season-five trailer, as well as the last two episodes from season four, to 150 IMAX theaters across the U.S., from January 23 to 29. The material will be digitally remastered to fit screens, and tickets for the events go on sale this week here. HBO also has a special featurette airing at the beginning of February, ahead of season five's April premiere. Winter Heavy promotion is coming.