There's a Cryptic Game of Thrones Special Coming in February
It's called "A Day in the Life."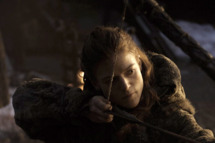 In preparation for this year's return of Game of Thrones, HBO has a cryptic special featurette lined up for fans on February 8. Called "A Day in the Life," the 28-minute program is set to air on the network at 7:30 p.m. and touts a behind-the-scenes look at the show — but nothing else is specified. The fan site Winter Is Coming pointed out that last year's special, which aired on February 9 and also preceded the season premiere, was more of a sneak peek and previewed new characters and story lines for season four. Season five is slated for an April release and features lots of tease-able material, including a new House and a new chunk of Westeros. Or we might just get more of the cast being adorable in real life, which also works, I guess, but mark your calendars just in case.