Jennifer Saunders Has Finally Finished Writing the Absolutely Fabulous Movie
She wants it made by the end of 2015.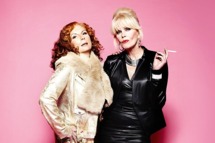 Two decades after starting the writing process, self-proclaimed "worst procrastinator in the world" Jennifer Saunders is done with the script for the Absolutely Fabulous movie. The co-star and creator of the sitcom told the Sunday People she wants the project made by the end of 2015. The film is reportedly titled Edina and Patsy, after the TV show's fashion PR protagonists. "I've finished the first draft," she said. "My proper New Year's resolution is to do the film, otherwise it'll be a pointless year of procrastination." Here's hoping this isn't a boy-darling-who-cried-wolf scenario.