John Krasinski Might Play a Navy SEAL in Michael Bay's 13 Hours
You do not mess with Jim.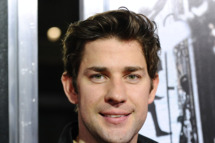 John Krasinski is leaping out of his comfort zone in more than one way, after reading for a thriller role as a Navy SEAL in Michael Bay's forthcoming Benghazi tentpole project, 13 Hours. Variety reports that the Office alum "blew Bay away in an early meeting for casting one of the starring roles," and might have a top-billed role locked down. Chuck Hogan's script will detail the events leading up to and during the attack on the U.S.'s Special Mission Compound in Libya on the 11th anniversary of the notorious September 11 terrorist attacks. The film is based on Mitchell Zuckoff's book Thirteen Hours: A Firsthand Account of What Really Happened in Benghazi — and will hopefully feature a full metal Jim.