Kim Kardashian Game Won't Make As Much Money As Projected
Kim still gets 45 percent; she'll be okay.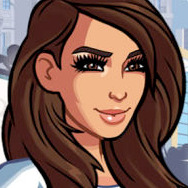 Because nothing is popular forever (well, except Beyoncé), the Kim Kardashian smartphone game, Kim Kardashian Hollywood, has fallen down the ladder of Candy Crushes and Angry Birds. No longer the most popular girl at App Store High, KKH won't make $200 million, the gasp-inducing number that people were predicting earlier this year. Yahoo Finance reports that Glu Games only made $43 million off the game in the third quarter of 2014, before its popularity dipped unexpectedly and significantly in the fall (Glu Games doesn't report official fourth-quarter numbers until February). But don't you worry about Kim: She still takes home 45 percent.