Oprah Winfrey and Selma Cast Mates Marched in Alabama for MLK Day
She opened by shouting "Selma!"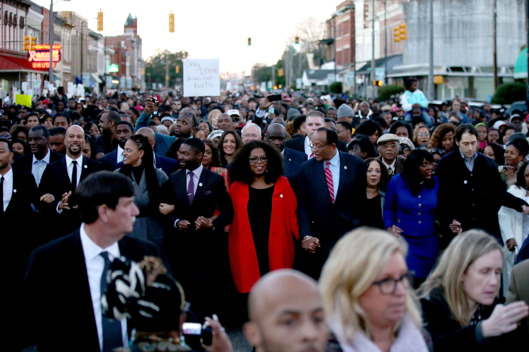 Oprah Winfrey, along with other cast and crew members from the movie Selma, gathered near Alabama's Edmund Pettus Bridge yesterday to march with local residents in memory of Bloody Sunday. Winfrey kicked off her address by yelling "Selma!" then explaining that the event was intended to pay homage to both Martin Luther King, Jr. and all who marched. "We stand here today in honor of you all, in honor of them, not just in memory of them, not just in memory of Martin Luther King, or in memory of Selma and what happened on the bridge," she said, speaking in front of Selma City Hall, "but to memorialize Martin Luther King as an idea, and Selma as an idea of what can happen with strategy, with discipline, and with love."
Winfrey marched with Selma director Ava DuVernay, star David Oyelowo, and rapper Common. The AP reported that Common and John Legend performed their Academy Award–nominated song "Glory" from Selma's bridge during the march. Afterward, Winfrey reportedly added:
The idea is that hope and possibility is real. ... Look at what they were able to do with so little, and look at how we now have so much. If they could do that, imagine what now can be accomplished with the opportunity through social media and connection, the opportunity through understanding that absolutely we are more alike than we are different.
Here's a clip of Oprah's pre-march speech: