Peter Mayhew, a.k.a. Chewbacca, Hospitalized With Pneumonia
He's expected to make a full recovery and reprise his role in <em>Episode VII</em>.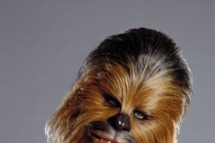 Peter Mayhew, the man behind the Chewbacca suit, was hospitalized for pneumonia this weekend, according to THR. The 70-year-old actor, who has played the iconic Star Wars character since the 1970s and will reprise the role for Episode VII, had to miss an appearance at a Texas comic-book shop because of his condition. On Monday, however, Mayhew's wife posted an update on Reddit: "Thank you for all the well wishes, prayers, good vibes, and happy thoughts. Peter is indeed in the hospital with pneumonia, and the flu. He will make a full recovery, and hope to be discharged within a few days. Doctors are incredibly happy with his improvements." As are we!