Selma: Where Did Its Oscar Campaign Go Wrong?
A few theories.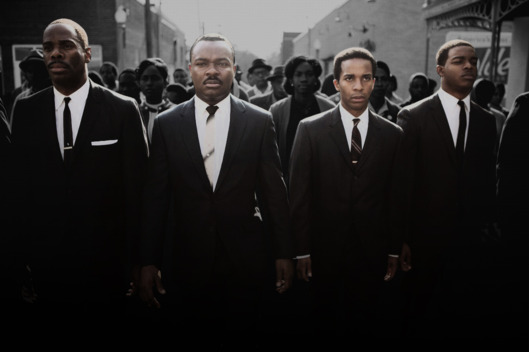 The biggest story on Oscar morning has nothing to do with front-runners Birdman, The Grand Budapest Hotel, and Boyhood: Instead, everybody's talking about Selma, Paramount's exquisitely reviewed Martin Luther King Jr. drama, which missed out on some of the key nominations its supporters were hoping for. The movie did manage a Best Picture nod, which is an awfully big honor — and one that's practically been overlooked today, amid all the outrage and recriminations — but nevertheless, two of its snubs really stung: Selma director Ava DuVernay was left off the Best Director short list, and the film's lead actor, David Oyelowo, couldn't crack his jam-packed category, either. What went wrong?
I don't think there's a single right answer to that question, though many have been tempted to ascribe Selma's two major snubs to its subpar screener situation. While it's ideal to watch an awards-season contender on the big screen, busy voters often rely on screener DVDs to help them catch up on the movies they may have missed. Sometimes, those screeners can make all the difference: Crash's Best Picture win in 2005 was attributed to the then-novel decision to blanket the Screen Actors Guild membership with DVDs (since actors constitute the Academy's largest voting body), and after A Better Life was the first "for your consideration" screener sent out in 2011, the film's very on-the-bubble Demian Bichir went on to land a Best Actor nomination.

By contrast, Selma was among the last screeners to arrive in voter mailboxes — when it was sent out at all. DuVernay wrapped production on Selma this past summer and first debuted her film at the AFI Film Festival in early November, and although that version looked pretty damn complete, further tweaks and polishes continued for over a month. When Paramount got a final cut of the film in mid-December, studio decision-makers had a tough quandary to ponder: Should they sink money into a raft of screeners for voting bodies like SAG, the Directors Guild, and the Producers Guild — even though weeks-long screener-manufacturing times ensured that most voting periods would be all but over by the time Selma discs were sent out — or should they focus only on sending screeners to the Academy and BAFTA, while scheduling theatrical screenings to serve every other voting group?

Ultimately, Paramount execs felt that the latter strategy was their best option, though the groups that hadn't received screeners continued to snub Selma in the meantime, stalling the film's momentum. Then again, BAFTA failed to nominate Selma, too, and they were one of the rare organizations that did get those discs. Was the studio counting on a want-to-see factor that simply wasn't as enthusiastic as they'd hoped? After all, the Academy's official Selma screening in December only attracted half the members who went to Into the Woods later that night.

Selma also got screwed just a few days into its release, when it was hit by high-profile inaccuracy charges that it had trouble batting back. Historians and confidantes of Lyndon B. Johnson accused DuVernay of devaluing the president's role in passing the Voting Rights Act, and while the director promptly batted those claims back on Twitter, anti-Selma editorials kept coming. Biopics and historical dramas often have to contend with this sort of thing, but though other contenders like The Imitation Game and American Sniper play fast and loose with their source material, Selma was hit the hardest. The campaign for Selma should have been about making history; instead, the film was forced to re-litigate it.

Today's Selma snubs also happened to come in an Oscar year where all 20 acting nominees were white, and the Academy can't love those optics. It's true that 12 Years a Slave won Best Picture last year, but it may be just as true that some Oscar voters, still recovering from that harrowing picture, were now reluctant to watch another important historical drama about race. Ninety-three percent of Oscar voters are white, and while the Academy is making a concerted effort to diversify its ranks — and is now presided over by its first black president, Cheryl Boone Isaacs — progress has been slow.

In the end, though, I think the main thing that worked against Selma is timing. Had awards been the first thing on the filmmakers' minds, they could have held Selma until 2015, engineering a fall film festival rollout that would have given them more time for word-of-mouth to accrue, more opportunities to introduce David Oyelowo to voters, a bigger window for sending screeners, and more space to dispense with controversies before voting finally began.

But I'm glad they didn't wait. It would have gone against the ethos of the film, after all: King was often coaxed to couch his agenda, but he knew that you must act when you can, as waiting for a more politically favorable window can leave you sitting on your hands forever. With stories like Ferguson and the death of Eric Garner in the news, the lessons of Selma take on greater importance than any trophy can confer, and there can be no question that Selma's moment is now. The film may have been dealt a few blows today, but I have no doubt that history will be good to it: As King himself said, "The arc of the moral universe is long, but it bends towards justice."