Alan Cumming Pretty Sure Alicia Will Get Laid on The Good Wife
"Like last year, they shot Josh. You're like, <em>what the hell?</em>"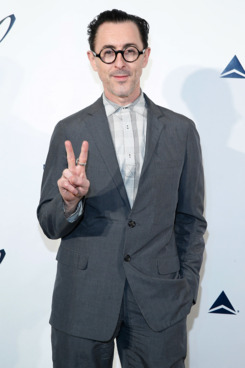 The Good Wife is never short on risky twists, but even its stars aren't sure how the show's going to pull off the tricky exit of Kalinda, one of the show's central characters. Alan Cumming, who plays the tense, manipulative Eli Gold, caught up with Vulture at the Drama League's 31st annual Musical Celebration of Broadway honoring James Earl Jones to give us the skinny on what's in store for TGW.
"Seriously, I don't know how they're going to get rid of Kalinda," he confessed. "The script I've got as of today is like the 16th episode or something, and a certain big thing happens, but, uh, you know, we're six more from the end, so. I often think that, like, Oh my God, they've shot their loads, and then there's five more episodes to go, and [I] think, Oh, holy shit! What are they going to do? I like it, though. It's exciting. I like the surprise of it," he said. "You know, like last year, they shot Josh. You're like, What the hell?" Indeed, we were like, What the hell.
As for Alicia's future, there is but one question: Is she going to get laid or what? "You know, I think she's going to get laid before the end of the season," Cumming laughed. "But with whom, I'm not at liberty to say."