Bob Dylan Defends His 'Mangling' of Songs
"Why me, Lord?"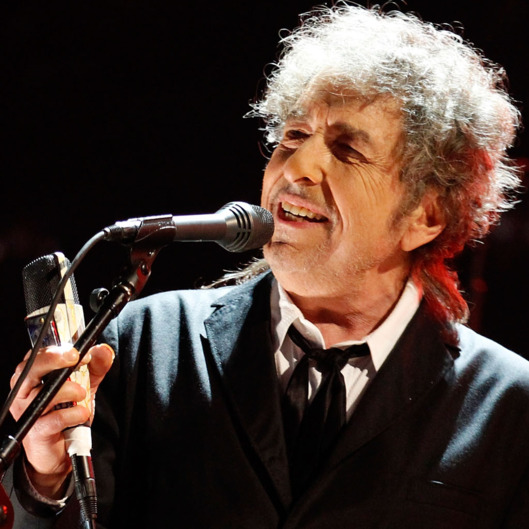 On Friday night, Bob Dylan was honored by MusiCares, a charity that gives critical aid to musicians in need. Introduced by former president Jimmy Carter, Dylan took the stage and gave a long, 30-minute speech about his storied career. He thanked John Hammond, who signed him to Columbia Records when he was a "nobody," and talked about the influence artists like Nina Simone, Jimi Hendrix, Joan Baez, Johnny Cash, and others had on him. He also got around to defending his voice, which he said critics have been giving him a hard time about "since day one."
Here's Dylan on his signature "croaking," transcribed by the Los Angeles Times. (Yes, some of the parts were inaudible.)
Oh, yeah. Critics have been giving me a hard time since Day One. Critics say I can't sing. I croak. Sound like a frog. Why don't critics say that same thing about Tom Waits? Critics say my voice is shot. That I have no voice. Why don't they say those things about Leonard Cohen? Why do I get special treatment? Critics say I can't carry a tune and I talk my way through a song. Really? I've never heard that said about Lou Reed. Why does he get to go scot-free? 

What have I done to deserve this special attention? No vocal range? When's the last time you heard Dr. John? Why don't you say that about him? Slur my words, got no diction. Have you people ever listened to Charley Patton or Robert Johnson, Muddy Waters. Talk about slurred words and no diction. [Inaudible] doesn't even matter.

"Why me, Lord?" I would say that to myself.

Critics say I mangle my melodies, render my songs unrecognizable. Oh, really? Let me tell you something. I was at a boxing match a few years ago seeing Floyd Mayweather fight a Puerto Rican guy. And the Puerto Rican national anthem, somebody sang it and it was beautiful. It was heartfelt and it was moving. 

After that it was time for our national anthem. And a very popular soul-singing sister was chosen to sing. She sang every note -- that exists, and some that don't exist. Talk about mangling a melody. You take a one-syllable word and make it last for 15 minutes? She was doing vocal gymnastics like she was on a trapeze act. But to me it was not funny. 

Where were the critics? Mangling lyrics? Mangling a melody? Mangling a treasured song? No, I get the blame. But I don't really think I do that. I just think critics say I do. 

Sam Cooke said this when told he had a beautiful voice: He said, "Well that's very kind of you, but voices ought not to be measured by how pretty they are. Instead they matter only if they convince you that they are telling the truth." Think about that the next time you [inaudible].
Dylan also mentioned country star Merle Haggard, who, he said, "didn't even think much of my songs. I know he didn't. He didn't say that to me, but I know way back when he didn't." But Haggard disputed that via Twitter:
Bob Dylan I've admired your songs since 1964. "Don't Think Twice" Bob, Willie and I just recorded it on our new album.

— Merle Haggard (@merlehaggard) February 7, 2015
The takeaway? Merle Haggard has Twitter.