Felicity Jones Lands Lead in Stand-alone Star Wars Film
Meanwhile, Aaron Paul is on the want list for the male lead.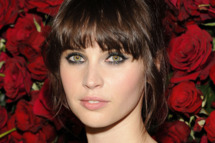 Felicity Jones's ascent continues, as The Hollywood Reporter writes that the lead in one of the stand-alone Star Wars movies is as good as hers. Two weeks ago, Rooney Mara and Tatiana Maslany looked like front-runners for Gareth Edwards's project. After testing last week in L.A., however, Lucasfilm and Disney are courting The Theory of Everything actress. Not much else is known about the movie, except Aaron Paul has made the want list for the male lead. Unfortunately, we'll have to wait until December 16, 2016, to find out if that character shares his penchant for the word bitch.