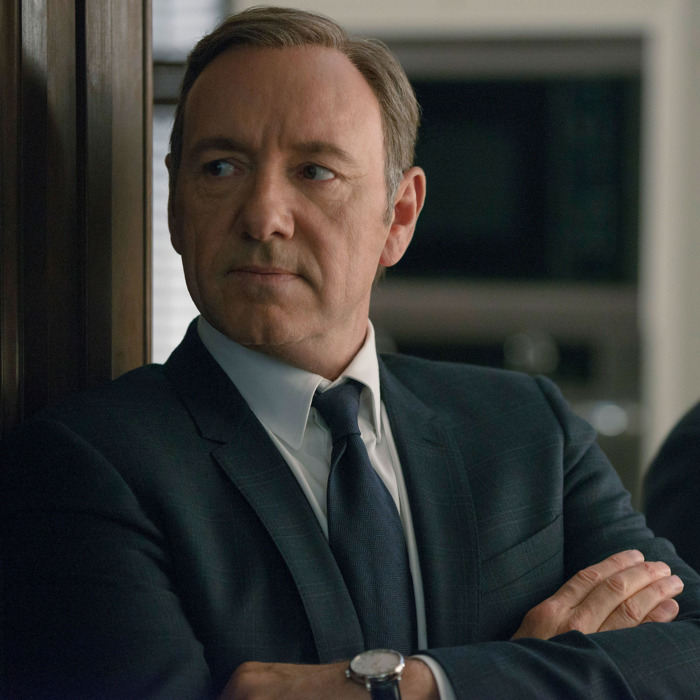 Photo: Nathaniel E. Bell/Netflix
House of Cards' third season hits Netflix at midnight (3 a.m. for those on the East Coast, sigh), and if, like most, you binge-watched all of season two in one weekend over a year ago, it's probably one giant blur. Why is Claire so upset? Where's Freddy? What happened to Doug? And how the hell did Frank even get to be president, anyway? As a quick refresher, we've recapped all the best — and most likely essential to season three — moments from last season in 14 GIFs. (Spoilers ahead, obviously.)
Episode 1, "Chapter 14"
The show's most shocking plot twist to date (and that's saying something): Frank Underwood kills Zoe Barnes.
Episode 2, "Chapter 15"
Frank, after finagling his way to the highest ranks of the White House in season one, is sworn in as vice-president.
Episode 4, "Chapter 17"
Claire Underwood lies in a TV interview about having an abortion as a result of being raped by General Dalton McGinnis — the catalyst for her season-long journey to pass a military sexual-assault bill.
Episode 5, "Chapter 18"
Lucas Goodwin gets caught by the FBI trying to hack into an AT&T data center to access Frank's phone records so he can link him to Zoe's death.
Episode 6, "Chapter 19"
Remy Danton and Frank's successor as House majority whip, Jackie Sharp, start sleeping together — a relationship complicated by their often dueling politics.
Episode 8, "Chapter 21"
Claire's previous affair with artist Adam Galloway comes back to briefly haunt her.
Episode 9, "Chapter 22"
Frank ends his friendship with Freddy Hayes after details of Freddy's past legal troubles — and Frank's visits to his BBQ Joint — come out in the press.
Episode 10, "Chapter 23"
Frank — and later, President Walker — gets implicated in a money-laundering scheme that leads to an investigation by the Attorney General.
Episode 11, "Chapter 24"
The moment everyone couldn't stop talking about: Claire, Frank, and their bodyguard, Edward Meechum, have a threesome.
Episode 13, "Chapter 26"
Claire begins to show signs of guilt after lying to the First Lady and causing Megan Hennessey, another woman General McGinnis assaulted, to try to commit suicide.
After several failed attempts to regain control of her life, Rachel Posner presumably kills Doug Stamper in an attempt to escape.
President Walker, facing impeachment amid the money-laundering scandal, resigns.
Frank finally weasles his way into the presidency.
On to season three!