The Independent Spirit Awards Split Best Picture and Director Between Boyhood and Birdman
And the winners are ...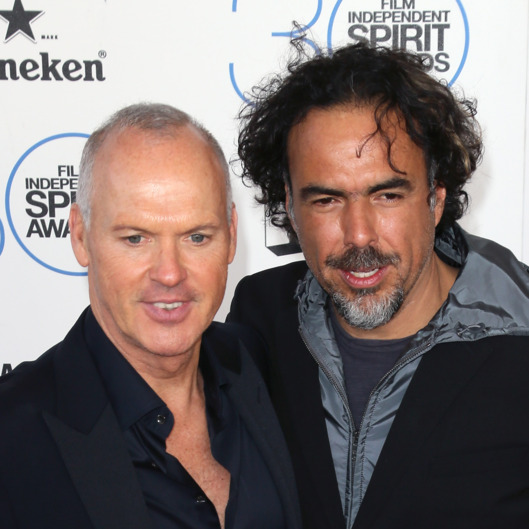 Birdman came out on top at the Independent Spirit Awards on Saturday night, winning Best Feature at the ceremony. But it wasn't a total sweep for the film, as Richard Linklater took home Best Director for Boyhood. There weren't any surprises in the acting awards (Julianne Moore, Patricia Arquette, J.K. Simmons, you know the drill). The feature debuts to get highlighted were Justin Simien's Dear White People, which won Best First Screenplay and Nightcrawler, which took Best First Feature along with Best Screenplay. Selma, which rolled in as the nomination leader, was entirely shut out.
Here's the full list of winners:

BEST FEATURE
Birdman
Producers: Alejandro G. Iñárritu, John Lesher, Arnon Milchan, James W. Skotchdopole
BEST DIRECTOR
Richard Linklater, Boyhood
BEST MALE LEAD
Michael Keaton, Birdman
BEST FEMALE LEAD
Julianne Moore, Still Alice

BEST SUPPORTING FEMALE
Patricia Arquette, Boyhood
BEST SUPPORTING MALE
J.K. Simmons, Whiplash
BEST SCREENPLAY
Dan Gilroy, Nightcrawler
BEST DOCUMENTARY
Citizenfour
Director/Producer: Laura Poitras
Producers: Mathilde Bonnefoy, Dirk Wilutzky
BEST INTERNATIONAL FILM
Ida (Poland), Director: Pawel Pawlikowski
BEST FIRST FEATURE
Nightcrawler
Director: Dan Gilroy; Producers: Jennifer Fox, Tony Gilroy, Jake Gyllenhaal, David Lancaster, Michel Litvak
BEST FIRST SCREENPLAY
Justin Simien, Dear White People
BEST EDITING
Tom Cross, Whiplash
BEST CINEMATOGRAPHY
Emmanuel Lubezki, Birdman
JOHN CASSAVETES AWARD
Land Ho!
Writers/Directors: Aaron Katz & Martha Stephens; Producers: Christina Jennings, Mynette Louie, Sara Murphy
LENSCRAFTERS TRUER THAN FICTION AWARD
The Kill Team, Director: Dan Krauss
PIAGET PRODUCERS AWARD
Chris Chison
KIEHL'S SOMEONE TO WATCH AWARD
H., Directors: Rania Attieh & Daniel Garcia