J.J. Abrams Is Making a Movie About 'Rugged' Stud Muffin Thomas Edison
It worked with Stephen Hawking!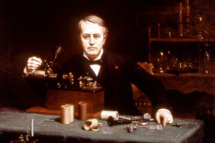 After the success of The Theory of Everything and The Imitation Game, J.J. Abrams is betting that Hollywood is ready for a sexy American brainiac. According to the Wrap, Abrams's Bad Robot Productions is developing a Thomas Edison biopic that will depict the 19th-century inventor as a "rugged, eccentric genius." If you're having trouble imagining that, look at this picture. Now, in your head, unbutton all of those buttons. Sexy!