Kanye Half-Rushed the Stage Because He Wanted Beck to Give His Grammy to Beyoncé
He was kidding!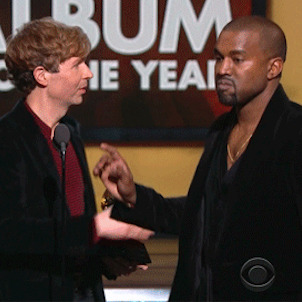 Kanye's interruption of Taylor Swift at the VMAs is now the stuff of contemporary history. So it was pretty big of Kanye to be able to poke fun when Beck took Best Album for Morning Phase over, yep, Beyoncé. You know you all wanted to run up on that stage and interrupt Beck, too.
Though what might have looked like a joke to some was completely serious. Yeezy really wanted Beyoncé to win (again). "If [the Grammys] want real artists to keep coming back, they need to stop playing with us. We ain't gonna play with them no more," West told E! after the live show. "And Beck needs to respect artistry and he should've given his award to Beyoncé." The reason he decided not to say anything was because he didn't want to endanger his daughter, wife, and clothing line. Next year, Yeezus.