Katy Perry Was Upstaged by Missy Elliott at Her Own Halftime Show
Missy stole the show.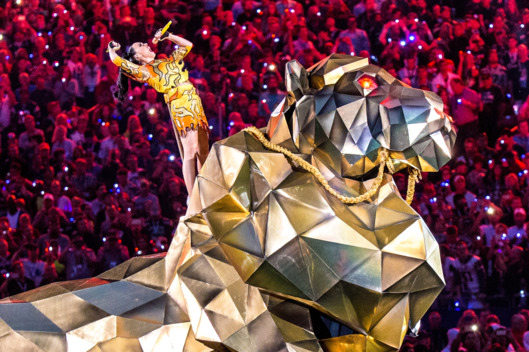 Katy Perry's Super Bowl halftime performance was … fine. Neither transcendent nor disastrous; neither Beyoncé nor Black Eyed Peas. Her vocals weren't perfect, but given the gig, I have to give her credit for not lip-syncing (or air-bassing). "Firework" was a predictably dazzling finale, but at other times, Perry's presence felt swallowed up by the set around her. All in all, it was a mixed bag. Texts received from the moms of the people I was watching with ranged from "Wow, I love it!" to "I think it stinks!!!!!" to "Am I tripping?"
If anything, it was — like last year's Prismatic Tour — a glimpse of an unquestionably charismatic performer still caught in a somewhat uncertain aesthetic crossroads. On Friday, Amanda Hess wrote a piece at Slate arguing that Katy Perry was the perfect choice for a Super Bowl performer because she was the perfect example of the "Cool Girl" archetype that Gillian Flynn describes in an oft-quoted passage from Gone Girl: "A hot, brilliant, funny woman who adores football, poker, dirty jokes, and burping … and jams hot dogs and hamburgers into her mouth like she's hosting the world's biggest culinary gang bang while somehow maintaining a size 2" — essentially, the human personification of a Super Bowl commercial. I'd argue, though, that that was all Katy Perry 1.0 — she of the Daisy Dukes, pseudo-bi-curious novelty singles and whipped-cream-squirting bra. Since her Prism reboot, Perry has been trying to distance herself from the American-girl-fantasy persona that made her famous, even if she seems a little unsure of exactly who she is instead. At times, it's put her in an awkward position. There was an NPR interview shortly after the release of Prism in which she chastised other "females in pop" for "getting naked" onstage. "I mean, I've been naked before," Perry added, "But I don't feel like I have to always get naked to be noticed."
In a way, last night's performance was an assertion of that — and maybe that was the most triumphant thing about it. During the opening performance of "Roar," she was an image of strength, her Cheeto-orange dress effectively rebuffing the dudes who had actually been organizing Katy Perry cleavage pools. (The song culminated in a roar so gloriously unladylike that it doubled as a fitting tribute to the late Bam Bam Bigelow.) Even as Perry segued into the "Teenage Dream" portion of the performance, it never felt like lazy pandering to the male gaze so much as Katy Perry doing Katy Perry, however vague and unformed that concept sometimes feels.
But of course Missy Elliott stole the show. As she grinned through a medley of brilliant-before-their-time hits "Get Ur Freak On," "Work It," and "Lose Control," something about her effortless cool reminded you how posed and studied Perry can often feel. Still, their egoless collaboration felt perfectly in step with this pop moment, in which women dominate the charts and female duets that rewrite the outdated diva/catfight narrative rule the radio. Missy was known for collaborating with other female artists — which was one of many ways she was ahead of her time, and one of the many reasons why pop music seems perfectly primed for the comeback that last night seemed to forecast. As I trudged through the wintry slush to get my coffee this morning, a car on the corner was bumping "The Rain (Supa Dupa Fly)" like it came out last week. I don't think the world realized how much it missed Missy until last night.