Last Week Tonight Renewed for Two More Seasons of Epic Rants
John Oliver isn't going anywhere.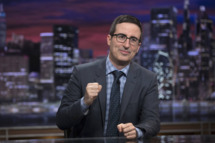 Good news for fans of John Oliver's comedic takes on cigarettes, Thanksgiving, and whatever else is happening in the world: HBO has just renewed Last Week Tonight for two more seasons. The weekly late-night news show recently returned for its second season after a critically praised first season in 2014 — which just won a Writers Guild of America Award. Last Week's third and fourth seasons will air in 2016 and 2017, respectively, with 35 episodes each.