NBC Might Be Considering a Law & Order Revival
Do it!
Error 503 Service Unavailable
Service Unavailable
Guru Meditation:
XID: 246603802
---
Varnish cache server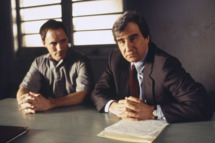 NBC may be considering reviving the original Law & Order for a ten-episode limited series. According to Deadline, there's no official plan in place or active development, but there is "movement" on the idea, and both Chris Noth and Sam Waterston have reportedly been approached to reprise their roles. It's not a half-bad idea, really: L&O creator Dick Wolf has three dramas currently on NBC and another in the works, limited rerurns of canceled series are very trendy right now, and America's appetite for crime procedurals remains high. If only there were a way to bring Claire Kincaid back from the dead ...