Starbucks Will Stop Selling CDs Soon
No more last-minute birthday gifts for mom.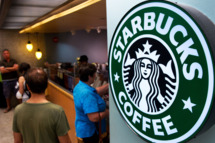 You'll soon have to buy your copies of Adele's 21 elsewhere. Starbucks, the leading carrier of coffees and copies of the Best Album winner from last year's Grammys, will stop selling physical CDs in their retail stores, reports Billboard. Oh no, how will we know what adult contemporary stations are playing without having to listen to the radio? How will we choose the perfect fifth day of Hanukkah gift for our parents? Where will we pick up Jackson Browne's 14th album, Standing in the Breach? Dunkin Donuts, it's about time you got into the music game.