Shonda Rhimes (and Everyone Else) Hated That Deadline Story on Diversity
"<span>Article is so ignorant I can't even be bothered</span>."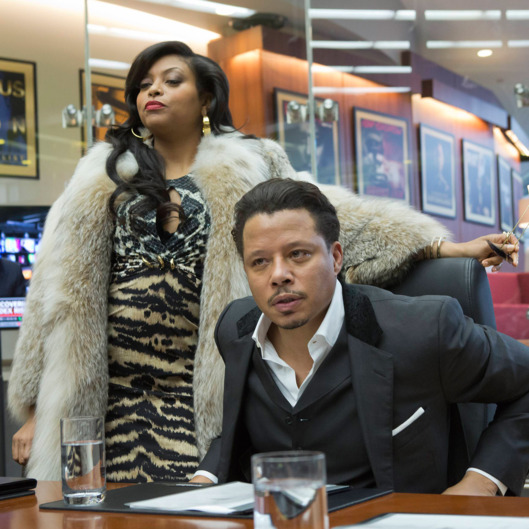 It takes a special kind of person to look at the success of shows like Empire, black-ish, and Fresh Off the Boat as something to fear, but that's just what Deadline did last night, in a story that asked, "Ethnic Castings — About Time, or Too Much of Good Thing?" As the site's TV editor Nellie Andreeva argued, the industry's recent shift toward more diverse casting, which has generally been regarded as a long-overdue step in the right direction, is actually unfair to white actors, who have found themselves passed over for quality roles this pilot season. As expected, Twitter treated Andreeva's post with the appropriate amount of scorn, as showrunners, actors, critics, and viewers all stepped up to express their displeasure with her prose.
Here are some of the reactions:
1st Reaction:: HELL NO. Lemme take off my earrings, somebody hold my purse! 2nd Reaction: Article is so ignorant I can't even be bothered.

— shonda rhimes (@shondarhimes) March 25, 2015
Hey look the grossest possible reaction to a breakthrough TV year: http://t.co/uwWvnQF8Jb

— emilynussbaum (@emilynussbaum) March 25, 2015
Did the Deadline article say anything about whether or not Chappie was black?

— billy eichner (@billyeichner) March 25, 2015
Initiate Phase 4 of #OperationWhitelash. The unresearched, anonymously sourced "Ethnic Epidemic" expose. http://t.co/SUcrhdFm5q

— Dan Harmon (@danharmon) March 25, 2015
Just....wow. Even @NikkiFinke is reading this article & thinking "dafuq is this bullshit?" http://t.co/JU3PDok2Qm

— Orlando Jones (@TheOrlandoJones) March 25, 2015
Deadline be cray.

— Joshua Malina (@JoshMalina) March 25, 2015
Reductionist hacks in entertainment journalism: about time or too much of a good thing?

— James Urbaniak (@JamesUrbaniak) March 25, 2015
Horrible Deadline article, you've left me no choice. I must go FULL FACEPALM, from ALL of Star Trek! Happy now??! pic.twitter.com/HC3FEY5CTW

— Mo Ryan (@moryan) March 25, 2015
So hard out there for white actors these days! I'm sobbing! http://t.co/hf1yyf7Sk2 pic.twitter.com/N977dX5sZq

— Kate Aurthur (@KateAurthur) March 25, 2015
Dear @Deadline: The premise of this article is misleading at best, and irresponsible at worst: http://t.co/7zafIroGsJ @DefineAmerican

— Jose Antonio Vargas (@joseiswriting) March 25, 2015
Don't think of that Deadline article as one person's opinion, but the collective opinion of a bunch of Hollywood agents. Feel better?

— Jaime J. Weinman (@weinmanj) March 25, 2015
All that Deadline article was missing was "I'm not racist but..." as its opening sentence.

— Juan (@JuanToThree) March 25, 2015
Nellie Andreeva adjusting the color on her television due to all the rampant ethnic castings: pic.twitter.com/YRYVNPwsRW

— Steven Santos (@stevensantos) March 25, 2015
Since "normal" is a packed room of classically trained hispanic actors vying to play a drug dealer with 3 lines, change ain't bad. @Deadline

— JD Carrera (@JDCarrera) March 25, 2015
I swear, people are intentionally writing anger-bait articles for #BlackTwitter now. #Deadline.

— Bright Walker (@FreedomReeves) March 25, 2015