Jane the Virgin's Gina Rodriguez: The Latino Community Needs to Unite
<span>"They see us as one community and we need to <i>be </i>one community."</span>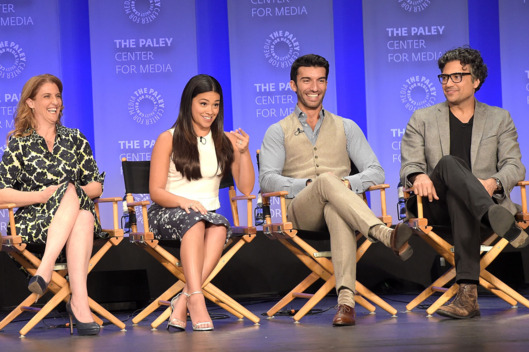 Jane the Virgin's PaleyFest panel in Los Angeles on Sunday turned into an inspiring and rallying call to action from star Gina Rodriguez, who asked the Latino community to come together as a united front in order to move forward in the ongoing quest for more diversity on television and in film.
"As an actress and as a woman of color I've been talking about this subject so much because it seems like an algorithm, 'How do we get in the Latina mind?' It does seem like this big subject to conquer. One, we need to write for human beings. That goes for any underrepresented ethnicity. We're human, we all want the same things we all want love and success, we're afraid of failure. Also, cast the best actor. Secondly, the Latino community here in this country is comprised of multiple cultures. …So the industry says 'let's hire a Latino,' and then the Latinos say 'well, you want a Mexican and I'm Puerto Rican; you want a Guatemalan and I'm from El Salvador; you want a Cuban and I'm Dominican' … We need to have the conversation; if they're going to put us under one umbrella — now I'm talking to the Latino community in this country; that means your ancestors spoke Spanish, right? That's what makes you a Latino? If we want to be considered and we want to show and use our power to the fullest, we need to unite … They see us as one community and we need to be one community, because we all share the same struggle. That's what we do as human beings — we celebrate each other, we celebrate each other's culture, we celebrate each other's religion, but we also unite as human beings. Let's do that, let's use our power as women, as Latinos, as whatever subculture you identify with, and at the same time celebrate being human. That's what [Jennie] did, she wrote a story for a human."
Adding to the conversation was Ivonne Coll (aka Alba "Abuela" Villanueva), who said she is delighted to represent the hard-working immigrant slice of the population. "We are part of the fabric, we are part of the nation, we contribute," she said. "It's not just about 'these Latinos.' I'm representing a demographic that is real, that really exists. Also the fact that I am in the country illegally. I mean Alba [is]! [Laughs] I'm Puerto Rican, Alba is Venezuelan," Coll corrected. "I am proud to put a human face on the hundreds of thousands of illegal aliens who are here who are not criminals, [who] are hard-working people."
Rodriguez later lightened the mood with a different rallying cry: "Now we can unite and get our ratings as high as Empire. 54 million? Where we at?"