Johnny Depp's Injury Continues to Stall Pirates of the Caribbean 5
But the release date of the film hasn't changed ... <em>yet</em>.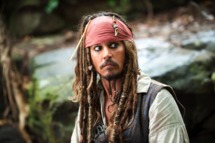 Johnny Depp's nebulous hand injury from earlier in the month has put production of Pirates of the Caribbean: Dead Men Tell No Tales on pause for roughly four weeks, The Hollywood Reporter writes. After suffering an off-set incident in Australia, Depp flew for surgery in the U.S., where he reportedly needed a pin put in his finger. Producers thought their production schedule would only be off by two weeks; however, Fairfax Media reports that the movie's crew said there would be no work for at least another two weeks. Filming should start up again in mid-April, and the release date of the film apparently still hasn't changed ... yet. Get well soon, Captain Jack!