Relive Some of the Magic From 'Conan in Cuba'
Lots of dogs and dancing.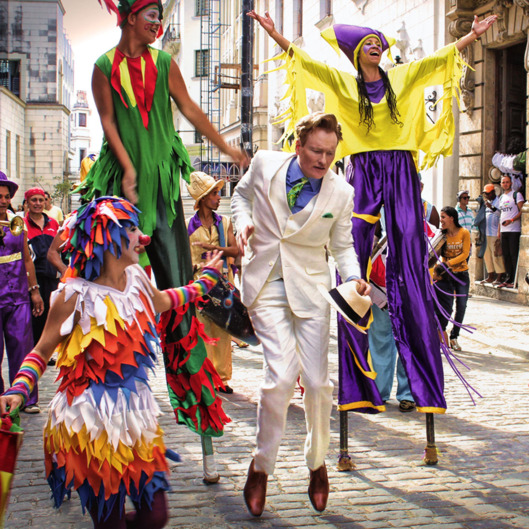 Conan O'Brien's historic "Conan in Cuba" special aired Wednesday night, and it more than delivered on its promises of dogs, dancing, cigars, and rum. The late-night host immersed himself in Cuban culture, working his diplo-magic and frequently making himself the butt of his own jokes — as Conan is wont to do. Other highlights included being told to leave a grocery store, almost falling out of a moving vehicle, and trying to learn how to rumba, roll cigars, hang out by the sea wall, use pay phones, and wear hats. If you DVR'd this, watch it ASAP. If you didn't, call everyone you know who has a DVR. You'll want to see it.
In the meantime, though, here are the first four minutes:
As well as some gems Conan shared while live-tweeting the show:
The only dog in Cuba who didn't bark at me. #ConanCUBA pic.twitter.com/IwhdwhRZFw

— Conan O'Brien (@ConanOBrien) March 5, 2015
My fantastic band in Cuba. They were playing in the café in the background, and I hired them on the spot! #ConanCUBA pic.twitter.com/gBhiP158c9

— Conan O'Brien (@ConanOBrien) March 5, 2015
Snapped on my iPhone: the champagne of cervezas. #ConanCUBA pic.twitter.com/eZjeZt1FlN

— Conan O'Brien (@ConanOBrien) March 5, 2015
All that rumba dancing exhausted me. Recharging my batteries with my assistant Sona. #ConanCUBA pic.twitter.com/1S82g9AvZT

— Conan O'Brien (@ConanOBrien) March 5, 2015
Shared a lot of laughs with the kids down by the sea wall in El Malecon. #ConanCUBA pic.twitter.com/fNrIV3pPRJ

— Conan O'Brien (@ConanOBrien) March 5, 2015
An iconic American writer known for his rugged manliness poses with Ernest Hemingway. #ConanCUBA pic.twitter.com/7TqcVcj9p0

— Conan O'Brien (@ConanOBrien) March 5, 2015
A caricature from a Cuban street artist. At least he got my hair and hand right. #ConanCUBA pic.twitter.com/I1wnOxWMhB

— Conan O'Brien (@ConanOBrien) March 5, 2015
It was nice of Cuba to name their absurdly-shaped taxis after me. #ConanCUBA pic.twitter.com/omhBShlWHp

— Conan O'Brien (@ConanOBrien) March 5, 2015
I took this pic of my assistant Sona acclimating to the Cuban lifestyle a little too easily. #ConanCUBA pic.twitter.com/KvKDakRolT

— Conan O'Brien (@ConanOBrien) March 5, 2015