Richard Glatzer, Writer-Director of Still Alice, Dies at 63
He was struggling with ALS.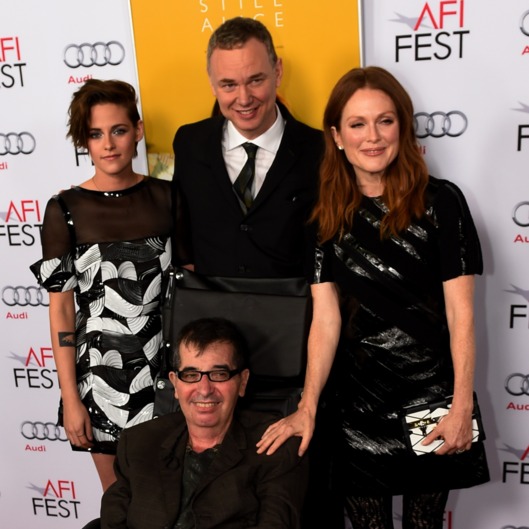 Richard Glatzer, the co-writer and director of Still Alice, died Tuesday in Los Angeles. He had been battling ALS, also known as Lou Gehrig's disease, since 2011 and is survived by his husband, Wash Westmoreland, and daughter, Ruby Smith. He was 63.
Despite his debilitating condition, Glatzer finished Alice with Westmoreland, working with a text-to-speech app on his iPad during the shoot, according to the AP. He and Westmoreland watched Alice star Julianne Moore win her Best Actress Oscar together in a hospital. Shortly after learning the news of his death, Moore wrote on Twitter, "I love you Richard." "I am devastated. Rich was my soul mate, my collaborator, my best friend and my life," Westmoreland said in a statement released to the AP. "Richard was a unique guy — opinionated, funny, caring, gregarious, generous, and so, so smart. A true artist and a brilliant man. I treasure every day of the short twenty years we had together."
I am devastated. Richard was my soulmate, my collaborator, my life. A true artist and a brilliant man. @stillalice pic.twitter.com/hSRriYMjhe

— Wash Westmoreland (@Washmoreland) March 12, 2015
With his husband, Glatzer worked on three other films in multi-hyphenated capacities, including the 2006 Sundance hit Quinceañera. Glatzer also lent his talents to the TV series Divorce Court and America's Next Top Model. Before diving into the entertainment industry, Glatzer, a New York native, originally had plans of pursuing a career in academia. Evidently, that changed. Westmoreland and Glatzer met at a party in 1995, according to NPR, the former saying, "We started talking immediately about movies and found that's where both our passions lay."
Here's the couple talking about their project Quinceañera: