Sarah Paulson Is Dying to Wear That Marcia Clark Wig
"I've almost never been more excited for anything in my life!"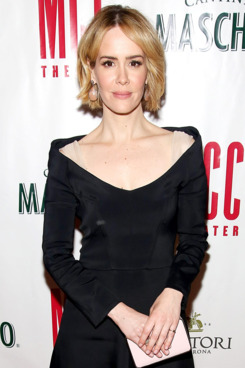 We've known for ages that Sarah Paulson would be playing prosecutor Marcia Clark in Ryan Murphy's new series American Crime Story: The People vs. O.J. Simpson, but have they found anyone to play Clark's colleague Chris Darden? "I do know who they cast, and I'm not at liberty to share," Paulson teased last night when Vulture caught up with her at the MCC Theater's big Miscast gala. But Paulson was a lot more forthcoming when we asked about finding the right wig to play the curly oiffed Clark. "I've almost never been more excited for anything in my life!" she said. "Transforming myself physically is very exciting to me. I like to look in the mirror and not see myself — it helps me to do my work — and that wig will hopefully make me not look like myself, which will be great. Because if I look like myself in that wig, I'm in real trouble!"
Coincidentally, Clark just popped up in another hot show of the moment: Netflix's Unbreakable Kimmy Schmidt, where series co-creator Tina Fey plays Clark (or a reasonable facsimile thereof) as an incompetent prosecutor in love with Darden. Turns out, Paulson is almost as excited to check out that performance as she is to wear the wig. "I haven't gotten that far, I'm on episode three in, but I did see an image of it," she told us. "Someone sent me a picture of it, and I think she looks great. And I'm sure, like everything Tina Fey does, it'll be a tough act to follow."