The Daily Show's Trevor Noah Is Already in Trouble on Twitter [Updated]
Comedy Central issued a statement.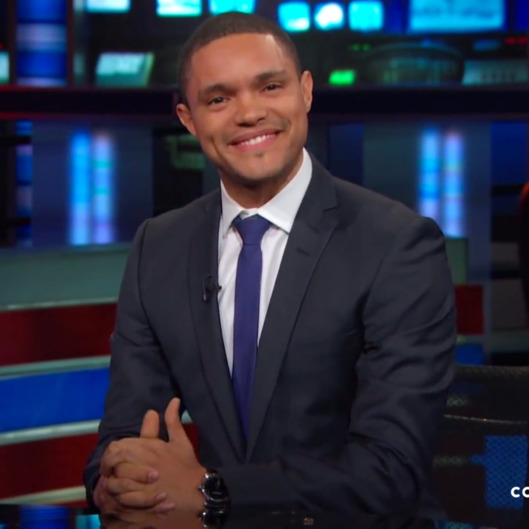 Just a day after Comedy Central announced Trevor Noah as Jon Stewart's replacement on The Daily Show, people are already calling for him to be fired. Why? Because we live in the digital age, where our internet pasts haunt us forever, and some Twitter sleuths have uncovered some pretty damaging old tweets from Trevor's account. Some of the tweets in question, which critics have labeled sexist and anti-Semitic, date as far back as 2009, while others are as recent as February 2015.
"Oh yeah the weekend. People are gonna get drunk & think that I'm sexy!" - fat chicks everywhere.

— Trevor Noah (@Trevornoah) October 14, 2011
A hot white woman with ass is like a unicorn. Even if you do see one, you'll probably never get to ride it.

— Trevor Noah (@Trevornoah) November 28, 2011
Behind every successful Rap Billionaire is a double as rich Jewish man. #BeatsByDreidel

— Trevor Noah (@Trevornoah) May 12, 2014
I'm watching Olympic women's hockey. It's like lesbian porn. Without the porn. #InLove

— Trevor Noah (@Trevornoah) July 31, 2012
Almost bumped a Jewish kid crossing the road. He didn't look b4 crossing but I still would hav felt so bad in my german car!

— Trevor Noah (@Trevornoah) September 18, 2009
Looking at how successful all the Kardashian women are, I don't blame Bruce Jenner at all.

— Trevor Noah (@Trevornoah) February 5, 2015
While it's unclear whether or not Comedy Central was aware of these tweets before they hired him (the network has yet to release a statement), there's an important lesson here: DELETE YOUR OLD, UNFUNNY TWEETS.
Update: MSNBC's Anna Brand says Trevor Noah tweeted, then quickly deleted, a response to his critics this morning.
Pretty quick tweet & delete from Trevor Noah pic.twitter.com/L2Yr8Dab74

— Anna Brand (@thebrandedgirl) March 31, 2015
Update No. 2: Comedy Central has issued the following statement: "Like many comedians, Trevor Noah pushes boundaries; he is provocative and spares no one, himself included. To judge him or his comedy based on a handful of jokes is unfair. Trevor is a talented comedian with a bright future at Comedy Central."