Valiant Comics Plans to Launch Its Own 'Cinematic Universe'
Thanks to a new partnership with China's DMG Entertainment.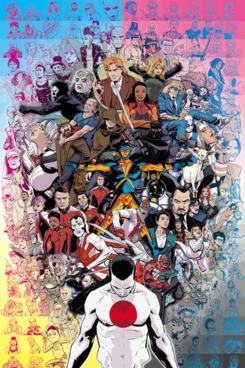 Fear not: There will be no shortage of comic-book movies in years to come, even if DC and Marvel give up on constantly rebooting Batman and Spider-Man. The independent comic-book publisher Valiant Entertainment has secured an eight-figure equity investment from Beijing-based DMG Entertainment, plus an additional nine figures for the production of film and TV projects. The publisher has a library of 2,000 characters, including X-O Manowar and Harbinger, and films based on the titles Bloodshot, Shadowman, and Archer & Armstrong were already in the works. Valiant says its partnership with DMG — which co-produced and co-financed Iron Man 3 — will allow it to "begin to establish its cinematic universe in the United States, China and beyond."
The two companies plan to develop more superhero films for simultaneous release in the U.S. and China, and to expand Valiant's Asian audience via Chinese-language publishing, animation, online games, merchandise, and theme parks.
"Audiences in China and the rest of the world are hungry for heroic stories that they can more easily relate to ... and with the international box office accounting for the biggest piece of the total gross, the time is right for a truly international superhero franchise," said DMG President Wu Bing in a press release. "DMG will bring its unique global perspective to the task of transforming the Valiant Universe into the first international comic-movie universe."