The Absolutely Fabulous Movie Is Officially Happening
According to Jennifer Saunders.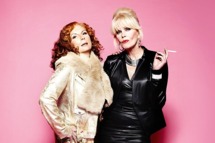 Jennifer Saunders's Absolutely Fabulous movie has officially been confirmed — in fact, it will start filming later this year, the Wrap reports. Earlier this year, the Ab Fab co-star and creator said she was titling the movie Edina and Patsy and that she had finally finished the first draft of the script (almost 20 years later). That draft is apparently in pretty good shape now. "There is a plot [for the movie] and that's the miracle," Saunders said in an interview Wednesday. "It involves all the main characters and virtually everyone that's ever been in the series, all those characters and we're in London and sometimes we might go to the South of France."