Captain Marvel Movie Nabs Two Female Writers, Searches for Female Director
Attention: Michelle MacLaren.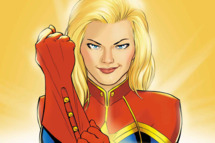 Guardians of the Galaxy's Nicole Perlman and Inside Out's Meg LeFauve are close to inking a deal to co-write Disney and Marvel's forthcoming Captain Marvel project, according to the Wrap. Captain Marvel, the comic-book company's first female-driven movie, is reportedly now on the hunt for a female director. The Wrap notes that Michelle MacLaren could be a good fit for the job, considering she just left her most recent one. The film, which is sounding more and more awesome by the update and centers on Air Force pilot Carol Danvers (a.k.a. Binary, Ms. Marvel), is set for a July 6, 2018, release.