Stephen Colbert, World's Biggest Star Wars Fan, Interviewed George Lucas and Somehow Didn't Freak Out
The two shared the stage as part of the Tribeca Talks: Directors series.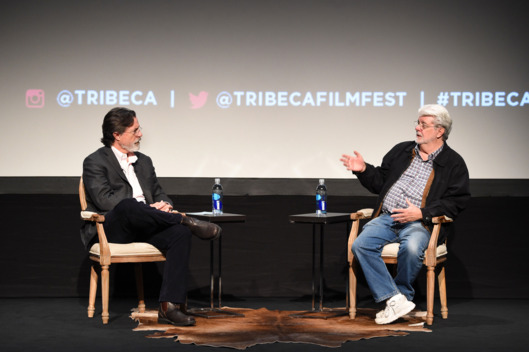 As the world's largest Star Wars fan, Stephen Colbert was undoubtedly thrilled to once again get the chance to hang out with his childhood idol George Lucas on Friday. A bunch of other people were thrilled, too, because Colbert wasn't interviewing Lucas in his childhood basement — the two were sharing the stage at the Borough of Manhattan Community College, as part of the Tribeca Film Festival's Tribeca Talks: Directors series. In an emotional hour-long conversation, the two spoke about the history of Star Wars, the prospects of a Howard the Duck remake, and why Lucas hasn't seen the new Force Awakens trailer yet.
There's a reason the dialogue in Star Wars is so bad.
As Lucas explained, he wanted the movie to be so easily understandable from its visuals that it was essentially a silent film. Does that mean, Colbert asked, that sound isn't important on film? "Sound is important," Lucas argued. "Dialogue isn't." And he would know: "I'm the poster boy for wooden dialogue." "It's not wooden," Colbert joked. "It's hand-crafted." Still, Lucas said, the words the characters speak are hardly the most important part of the audio-visual experience: "Dialogue is just part of the soundtrack."
Brian De Palma didn't understand the idea of the Force.
When Lucas was cutting Star Wars, he organized a special screening at his home for all of his filmmaker friends; Steven Spielberg, Martin Scorsese, and Brian De Palma were all there. As Lucas recalls, the reception was not positive. "Everyone was like, Poor George ... And then Stephen stood up and said, 'This is going to be the biggest movie ever.' So then everyone was like, Poor Steven ... " De Palma was particularly confused by the film's mythology: "He was like, 'What's the Force?'" Fortunately, the future Scarface director proved helpful in other ways, telling Lucas to cut down the film's first act, and helping him out with the editing.
It took a long time for Lucas to realize that Star Wars was a blockbuster.
Throughout the rave reviews from screenings and overwhelming opening numbers, Lucas was convinced the film's success was a blip. "'It's a science-fiction film,'" he remembered telling producer Alan Ladd. "'You've got that little group of science-fiction fans who will come to everything. Let's not get too excited here; THX [1138] had a big first week, too.'" It wasn't until a week later, when Lucas was on vacation in Hawaii, that the reality sank in. "I got a call from Laddy; he said, 'George, turn on the news!' Walter Cronkite did a huge story on the Star Wars phenomenon, showing the lines going around the block. That's the first time I knew Star Wars was a hit."
Lucas has a good feeling about a Howard the Duck remake.
Howard the Duck, from 1986, is the biggest flop on Lucas's résumé and is widely acknowledged as one of the worst films ever made. Though he called it a "cult classic," Lucas acknowledged it had major problems: "I told [the filmmakers] the technology wasn't going to work. You can't put an dwarf in a duck suit; it doesn't work." But now that technology has caught up, Lucas said he had a hunch that Marvel was going to bring the character back for something bigger than his Guardians of the Galaxy cameo. "They had a digital duck," Lucas said. "When you have a digital duck, you can do anything."
He hasn't seen the new trailer for Star Wars: The Force Awakens.
Ever since J.J. Abrams set about relaunching the Star Wars series, Lucas has been completely hands off the film franchise. In fact, he may have been the only person with an internet connection not to watch the film's trailer on Thursday. "I only saw what was on CBS," he said. "I want [to wait] to see it on the big screen." Still, the director had kind words for his successors and was looking forward to experiencing the new film just like everybody else. As he put it, "The one thing I regretted about Star Wars was that I never got to see it."
Lucas thinks Colbert should have got the Daily Show gig, too.
Stephen Colbert is probably sick of everyone asking him why he's not going to be the new host of The Daily Show, but he gave a thoughtful and sincere answer when his childhood hero turned around and asked him that very question. "I worked with Jon [Stewart] for years," he said, "and he was always the smartest, hardest working, most clear thinker in the room." But with all the admiration he felt for his predecessor, Colbert said he wouldn't be able to relax and enjoy the job: "Somebody who's a little further away would probably have a better time."