Game of Thrones Episodes Spilled, Like So Much Blood
Something's rotten in the state of Westeros.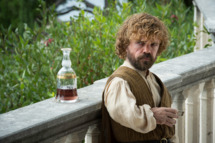 Game of Thrones officially premieres tonight, but hundreds of thousands of bloodthirsty fans have already watched the first four episodes, thanks to a leak. Review copies sent to critics somehow spilled on to the internet. According to the Daily Beast, "They first appeared on the private torrent tracked IPT, but later also showed up on The Pirate Bay, RARBG, and KickassTorrents." If you haven't seen the leaked episodes yet, rest assured that there's still plenty of sex and death — and sometimes sexy death — in Westeros.