Black-ish Creator Will Pen the Script for That Good Times Movie
Finally, some progress.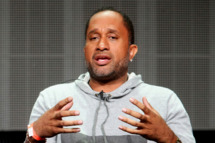 Roughly two years ago, there was word of a Good Times movie ... and then development silence. Fans of Kenya Barris will be delighted to hear there's finally an update, and it involves the Black-ish creator penning the script for the '70s sitcom's feature film adaptation. Deadline reports that Sony has popped Barris on the project to take things back to the 1960s and to try to re-create some of the groundbreaking CBS show's magic. Not much else is known, sadly, aside from the fact the dy-no-mite duo of Scott Rudin and Eli Bush are producing. But hopefully, with Barris onboard, this project will now become a top priority.