Entertainment Weekly Leaks Major Grey's Anatomy Spoiler
Do <em>not</em> click this link if you were planning on watching tonight's episode.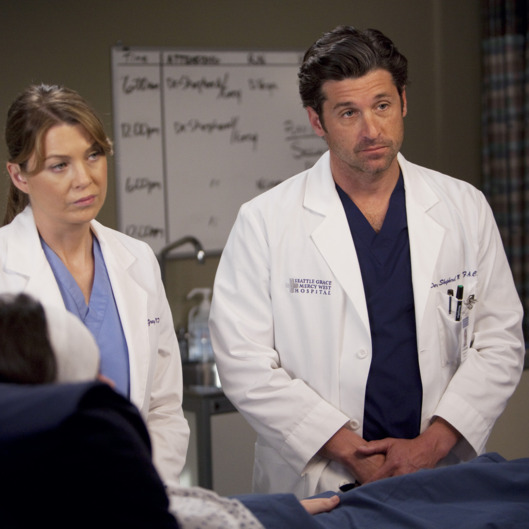 [Spoiler Alert: You should probably exit this window immediately if you haven't seen tonight's episode of Grey's Anatomy, and definitely don't look at the picture after the jump.] An Entertainment Weekly subscriber reportedly got Friday's issue a little earlier than expected, and some of the mag's more potent bits of content made the rounds on social media, causing a fan-crazed ruckus because of a massive Grey's Anatomy spoiler.
An exclusive story, featuring Patrick Dempsey's departure from the ABC hit show, was presented to readers with a full-page portrait, as well as the headline: "The Doctor Is... Out." One Instagram user, named Paige, wrote of the doctor's prematurely revealed killing-off: "@entertainmentweekly how are you going to put that little, tiny, microscopic spoiler alert warning next to a full page picture of the smokin' hot @patrickdempsey and expect people to notice it!?! You literally just RUINED one of the most important moments of @greysabc in the history of the show!! I'm so FURIOUS right now that if I was also fast I'd be filming with Vin Diesel for the 8th installment."
"We are surprised that an EW subscriber may have received their issue a day earlier than planned," the magazine reportedly wrote in a response statement. "We always try our best to bring readers exclusive news first. We would like to apologize to fans of the show that learned the news ahead of time." "Page Six" reported earlier in the week that Dempsey's divalike behavior was serving as an impetus to give him and his character the boot, but as far back as last November, the actor himself has been mentioning his exit was imminent. Whatever the reason, Dempsey's given us a decade of great care and hair. Fare thee well, Dr. Derek Shepherd. In case you aren't a subscriber, here's the EW pic:
"Derek Shepherd is and will always be an incredibly important character — for Meredith, for me and for the fans. I absolutely never imagined saying goodbye to our 'Mcdreamy,'" creator and executive producer Shonda Rhimes said in a statement, released to People, after the April 23 episode aired. "Patrick Dempsey's performance shaped Derek in a way that I know we both hope became a meaningful example — happy, sad, romantic, painful and always true — of what young women should demand from modern love."
"His loss will be felt by all. Now, Meredith and the entire Grey's Anatomy family are about to enter uncharted territory as we head into this new chapter of her life. The possibilities for what may come are endless. As Ellis Grey would say ... the carousel never stops turning."
In the episode, titled "How to Save a Life," Dempsey's character dies after being involved in a car crash. Dempsey and Derek were actually supposed to stick with the show for its expected 12th season, but the hospital the doctor ended up in was not experienced enough to make this happen. "After 11 seasons on Grey's Anatomy, Patrick Dempsey is moving on to pursue other interests," ABC said in a statement. "Dr. Derek Shepherd is an iconic character and we've been proud to be the home of 'McDreamy' and the 'Mer/Der' love story. The devotion of Grey's fans throughout the years has been a testament to the creative mind of Shonda Rhimes and Dempsey's talent. 'McDreamy' will be greatly missed and we wish Patrick the very best in his future endeavors."