Jessica Biel and Justin Timberlake Had a Baby
Silas Randall Timberlake.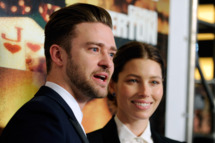 Justin Timberlake and Jessica Biel just had a baby. Well, Biel had the baby, really, though her husband probably helped. According to People, the little guy, blessed with exquisite genes, is named Silas Randall Timberlake. Timberlake, that modern dandy and entertainer of all trades, broke the news of Biel's pregnancy on his 34th birthday this January. Expect Silas to have his first platinum album by next April.