Phil Lord and Christopher Miller Are Developing a Flash Movie
Because everything is awesome.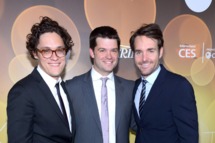 The LEGO Movie masterminds Phil Lord and Christopher Miller are writing a treatment for Warner Bros.' forthcoming Flash movie, Deadline reports. It's unclear if Lord and Miller will direct, but it is clear that if they do, everything will be awesome. They already have their hands pretty full, though, with a LEGO Batman movie and LEGO sequel in the works. Variety adds that Ezra Miller will star as the speedy, scarlet hero, and the film is slated for a March 23, 2018, release. Hopefully, with a sense of humor.