Michelle Obama: The Whitney Is for 'Dreaming'
The new museum is a place, she said, for "dreaming, witnessing, and making things possible."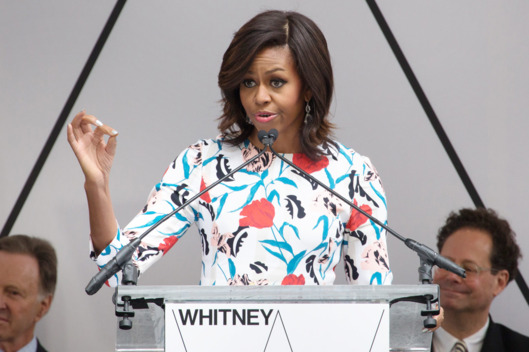 Four locations and 87 years ago, the Whitney Museum of American Art was founded. Today, it was rededicated. Magnificently.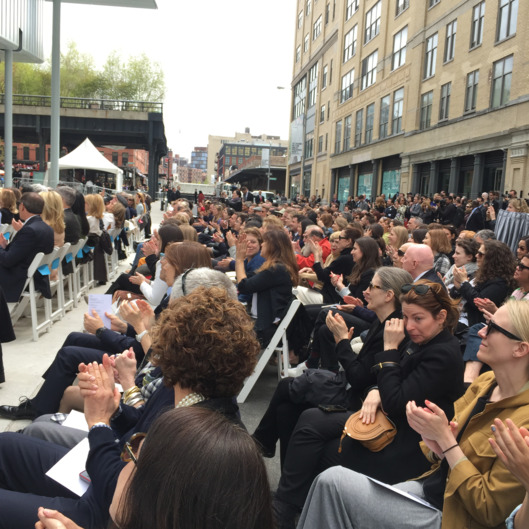 Who was in this crowd of about 1,500 people — including every Whitney staff person and many guards and kids, and no Lady Gaga, James Franco, Tilda Swinton, or Marina sightings that I know of? In addition to super-patron and Zen believer in the arts Flora Miller Biddle — granddaughter of the museum's founder, Gertrude Vanderbilt Whitney — sitting on stage on Gansevoort Street, looking toward the new museum, were Mayor de Blasio (a better speaker than I thought); Whitney architect Renzo Piano, who began his speech looking around at all of this, saying, "Mamma mia," and everyone in eyeshot nodded in agreement; director Adam Weinberg, who, with his deputy, Donna De Salvo, should be given keys to the city, or at least a lifetime MTA pass; some other Whitney mucky-mucks who helped make all this possible; and America's First Lady, Michelle Obama — glorious, glamorous, and speaking truth to power in ways I don't think I could have imaged one hour earlier. This new museum is a much bigger deal than I realized, I thought.
The First Lady talked about how "One mile from here, there are kids who don't feel like they belong here, and this place starts to change that," adding, "I know, I was one of those kids growing up on the south side of Chicago." She talked about how a museum is a place for "dreaming, witnessing, and making things possible." I mean, we don't even tell ourselves this in the art world, exactly: that among other things, the museum is a place that dreams and remembers its dreams. I'm sure that's what Lawrence Weiner was getting at when, right after the First Lady spoke, he leaned into my ear and said, "I'm not usually a joiner, but now the Whitney's mission is written in stone."
It seems almost an afterthought to quote something Piano said about the museum being a "place where fear goes away," mentioning that the building weighs 38,000 tons, and saying in the most convincing way I've heard in some time, "I am pretty sure that beauty will save the world — not all at once, but one person at a time."