Taylor Swift or Dashboard Confessional Lyric? A Quiz
Two of a kind.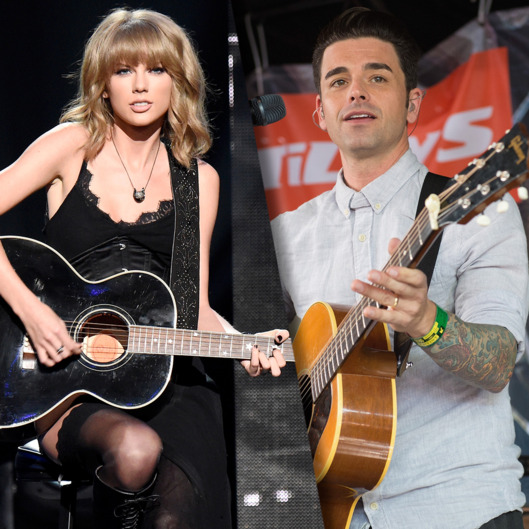 After Taylor Swift surprised her BFF Abigail with an intimate birthday sing-along with Dashboard Confessional's Chris Carrabba, we realized how much Swift's lyrics overlapped with Carrabba's. The passionate drama, the bitter revenge, the hopeless romance: Tay and Chris have a lot in common. Imagine Taylor Swift, in middle school, blasting Swiss Army Romance from the passenger seat, later teaching herself the chords to "Hands Down" on her acoustic guitar. No wonder her words seem so influenced by those dashboard confessionals. Can you tell the different between Swift- and Carrabba-penned lyrics? 
Taylor Swift or Dashboard Confessional?
And I've hidden a note / It's pressed between pages that you've marked to find your way back.
The wind outside is biting / It has left me feeling tired and exposed.
But you're just so cool / Run your hands through your hair / Absentmindedly makin' me want you.
You're dying to look cute in your blue jeans / But you're plastic just like everyone.
I think I miss you most / On Wednesdays / And Saturdays.
You are an expert at "sorry" / And keeping lines blurry / Never impressed by me acing your tests.
I think her ever-present frown is a little troubling / And she thinks I'm psycho 'cause I like to rhyme her name with things.
Perfect posture, but you're barely scraping by / But you're barely scraping by.
And you got your share of secrets / And I'm tired of being last to know.
So don't be a liar / Don't say that everything's working / When everything's broken.
I heard about your regrets / I heard that you were feeling sorry / I heard from someone that you wish you could set things right between us.
The words are hushed, let's not get busted / Just lay entwined here, undiscovered.
You say that the past is the past / You need one chance / It was a moment of weakness and you said yes.
Put your lips close to mine / As long as they don't touch / Out of focus, eye to eye / Till the gravity's too much.
Did you think we'd be fine? / Still got scars on my back from your knife / So don't think it's in the past / These kind of wounds, they last and they last now.