Stanley Tucci Will Be a Piano in Beauty and the Beast
That's Cadenza to you.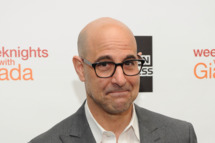 Add one more to the live-action Beauty and the Beast cast: Following the news that Ewan McGregor is playing a singing candlestick, Variety reports that Stanley Tucci will play a singing grand piano. The character, dubbed Cadenza, is new to Belle's world this time round and is being described as a "neurotic maestro." So think Squidward, but with only three legs. The movie, which already had a fairly star-studded cast, is slated for a March 17, 2017, release.