Watch All Time Low Sing a Karaoke Version of Their Song 'Dear Maria, Count Me In'
The pop-punkers mostly remember the lyrics.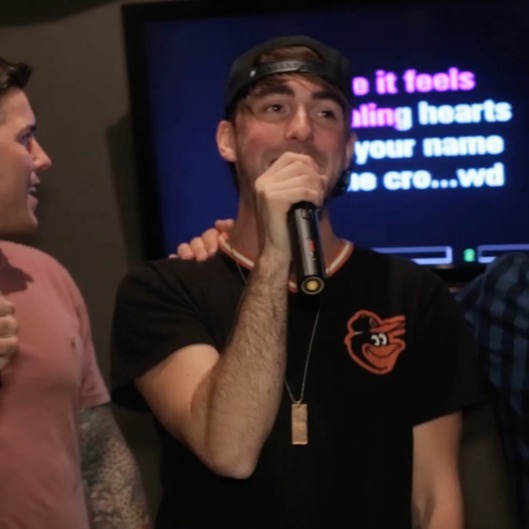 Pop-punk can't slow down. It's impossible to spend even a short time in a karaoke bar without hearing someone knock a Blink-182, Goldfinger, or Paramore track out of the park. These are songs that make people genuinely happy. (Except "Adam's Song." Total downer. Don't sing that one.) For this installment of our "Get a Room" series (previously featuring the Bangles' Susanna Hoffs) we invited pop-punk vets All Time Low to sing their biggest hit, "Dear Maria, Count Me In." On the same day we filmed, they released their new record, Future Hearts, which debuted at No. 2 on the Billboard chart in the U.S., and No. 1 in the U.K.
After warming up with the Human League's "Don't You Want Me," the band tweeted out our filming location, and before long we had the room filled with All Time Low superfans. They packed out the room and sang along to every word of "Dear Maria." The manager of the karaoke bar ended up asking the band to take down their tweet because people "keep calling and asking to speak to the band." Sorry about that, Karaoke Cave. Hope you enjoyed the apology fruit basket.