Check Out New Photos From Quentin Tarantino's Hateful Eight
Bang bang.
After a turbulent period of stolen screenplays and regrettable lawsuits last year, Quentin Tarantino decided to eschew his frustrations and finally film his mammoth screenplay for The Hateful Eight, a purportedly brutal and bloody Western about a coterie of strangers who tell each other stories and kill stuff, like The Canterbury Tales but with more swearing. The film's colossal cast includes Samuel L. Jackson as Major Marquis Warren, "The Bounty Hunter"; Kurt Russell as John Ruth, "The Hangman"; Jennifer Jason Leigh as Daisy Domergue, "The Prisoner"; Walton Goggins as Chris Mannix, "The Sheriff"; Demian Bichir as Bob, "The Mexican"; Tim Roth as Oswaldo Mobray, "The Little Man"; Bruce Dern as General Sanford Smithers, "The Confederate"; and Michael Madsen as Joe Gage, "The Cow Puncher." Channing Tatum, James Parks, and Zoë Bell will also make appearances.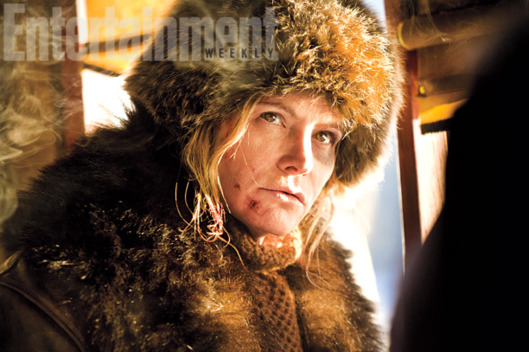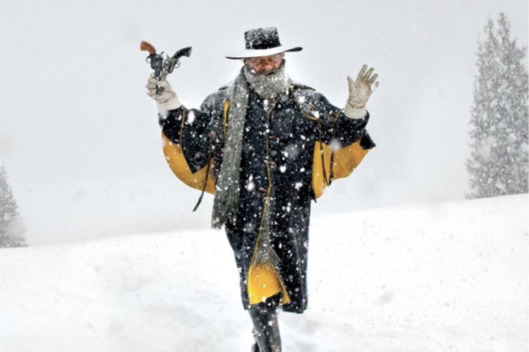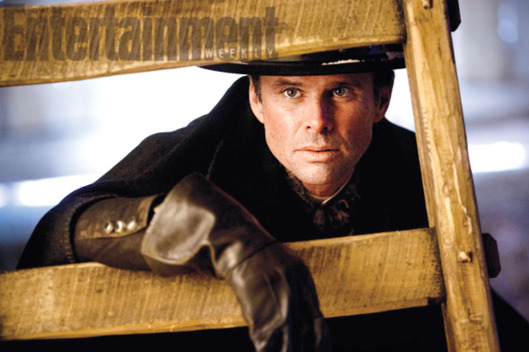 The film's teaser came out illegally a few months ago, then legally last month, and has since been taken down. Now Entertainment Weekly has pictures of the cast in their Old West winter garb, with Jason Leigh's "infamous outlaw" looking a bit battered (though no less lethal) and Sam Jackson's former Union officer possessing the debonair air of an old and wizened man with a few dark secrets and two six-shooters.