Now You Can Sit on a Rob Pruitt Whenever You Want
<em>Cocaine Buffet</em> gives way to home d&eacute;cor.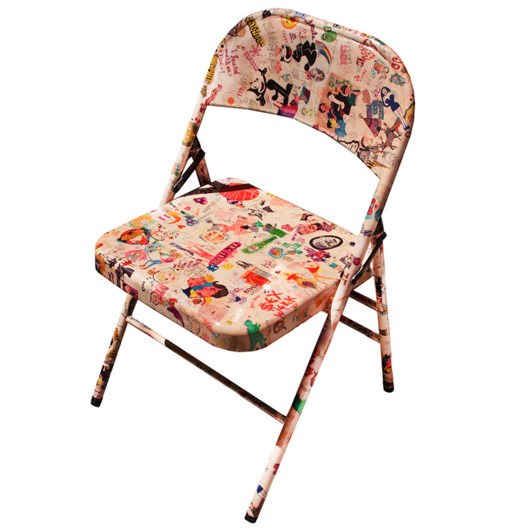 Rob Pruitt already made jeans and concrete-filled jeans as benches, not to mention sofas, and now you can buy his folding chairs. According to Exhibition A, which is selling them (in an edition of 100) for $925 each, they were "conceived after Pruitt's graffitied plywood tabletops in his solo exhibition at Gavin Brown's enterprise last October," and are, quoting the Times' review of that show, "tricked out with tangles of images from comics, cartoons, and advertising ... hand-drawn in fluorescent colors and black lines with consummate assurance by Mr.Pruitt's studio assistants."
Says his friend, the Half Gallery co-owner Bill Powers, "I've always liked the idea of art as furniture, whether it's a Julian Schnabel throne or an Yves Klein coffee table or Dan Colen made some park benches, and with this, Rob has taken the imagery off his graffiti plywood tables and done it as a vinyl wrap over a metal folding chair so the look of the background is more like a plywood tabletop, but then when you touch it, you hear that metallic sound. I think there's a little bit of an exchange of the visual and the tactile."
According to Exhibition A, the folding chair is a "unique piece which can be displayed as sculpture or placed around the dining room table." (No mention is made of how it might work with his legendary 1998 participatory-art piece Cocaine Buffet.) For sale individually or as a set, they're accompanied by a signed certificate of authenticity by the artist. Allow three to four weeks for production.