Fear the Walking Dead Is Going to Be a Riveting Love Story
"The fact that we have zombies in it is icing on the cake."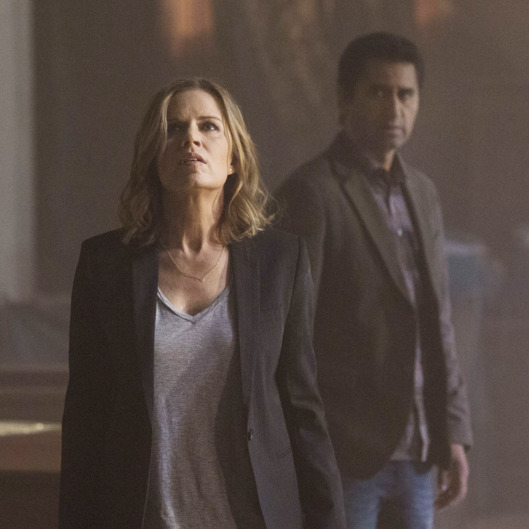 The teasers for Fear of the Walking Dead haven't revealed much: We know we're in Los Angeles in the same universe as The Walking Dead, about the time when people think this might still be a "flu" outbreak. After a conference call with executive producer Robert Kirkman, we have a better sense of the rest of the log line: The main protagonists are Madison (Kim Dickens) and Travis (Cliff Curtis), two recently divorced L.A. schoolteachers who move in together and are "very much in love." They have kids from previous marriages: Madison has Alicia (Alycia Debnam-Carey), the golden child, and Nick (Frank Dillane), the college dropout. Cliff's son Chris will be played by Lorenzo James Henrie. While he didn't drop any bombshells, Kirkman revealed more about Madison and Travis, explained how the walkers would look, and was clear that there was one mystery the show wouldn't dive into.
Everyone is moving to Los Angeles.
With FTWD set in Los Angeles at the start of the outbreak, Kirkman said the show will have its own distinct look and feel. "One of the things that was really important to us from day one was that this show stand alone — story-wise, character-wise. We wanted it to have its own corner of the universe, and that extended to our visual take on what it would be." (One obvious difference between the two series — FTWD is shot digitally, rather than with the 16mm film used for The Walking Dead.) Moving the action to a bustling metropolis in the midst of disaster also marks a major shift for the franchise. "Having the show set in Los Angeles, there's probably going to be more chaos, especially in the first season and moving into our second season, just because we are watching civilization crumble," Kirkman said. "There is a tremendous amount going on, and the story's going to move very quickly. I would expect it to be more hectic than the first season of The Walking Dead was."
This is a family drama first.
Instead of a cast of strangers united by circumstance, FTWD focuses on a blended family struggling to stay alive and stay together. Madison (Gone Girl's Kim Dickens) and Travis (Gang Related's Cliff Curtis) both have children from previous relationships and were planning to get married when disaster struck. "All the intricacies and struggles that come from that family dynamic, and setting it against the fall of civilization in the face of the zombie apocalypse, just makes things that much more interesting," Kirkman said. "That's one of the many things that allows these two shows to exist together without any kind of overlap." Kirkman added that he sees this couple as something new and fresh for the genre: "One of the things I'm really excited about is these are two characters that are very much in love. Too often, cable television shows deal with the breakdown in relationships and infidelity and people not getting along and people getting torn apart. This is a show that's pretty much about two people that are a team, first and foremost — they back each other up, they respect each other, they love each other."
The walkers will have fresh faces.
Fans of the original show have noticed that, as time goes on, the zombies look increasingly rotten and grotesque. With FTWD set just months prior to Rick Grimes waking up from his coma, expect to see walkers that look more like Morgan's wife did in TWD's first season. "They're not going to be as decayed and they're not going to be as monstrous," Kirkman said. "Which to me is going to make the violence on the show and the different things that happen that much more startling, because we're going to be dealing with a much more human walker." But don't expect less undead mayhem in the new series. "While there is going to be a tremendous amount of paranoia and psychological drama, there's not going to be any loss of zombie action or excitement in this show. I think we'll be bringing the best of both worlds."
No, this is not an origin story.
Fans hoping for answers about the origins of the zombie outbreak will be disappointed. Asked how much FTWD will reveal on the matter, Kirkman was blunt: "Next to nothing. I still maintain that it's not an important aspect of the story. You'll get a bigger picture of the world, and there will certainly be aspects of watching civilization crumble that will give you better insight into what is happening here. But as far as digging down to actually find the smoking gun and realizing what that causes, it's really unimportant to the overall story."