First-Year MFA Class Drops Out En Masse at USC
Even during an art boom, are the costs of an MFA a realistic burden for students?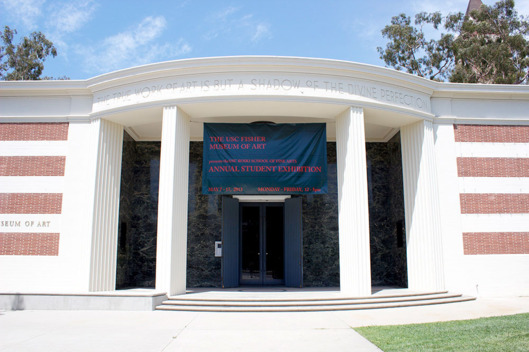 Even during an art boom, are the costs of an MFA a realistic burden for students?
First organized in 1883, the USC Roski School of Art and Design is the largest art school in Southern California. The school boasts of its proximity to institutions like the Getty Museum and LACMA. Its graduates include iconic West Coast artists like Paul McCarthy and Kenneth Price. For the first time in its history, however, the school has lost an entire class of MFA students over a dispute that highlights the difficulties of such programs for artists.   
Roski's rising class of seven MFA candidates (Julie Beaufils, Sid Duenas, George Egerton ­Warburton, Edie Fake, Lauren Davis Fisher, Lee Relvas, and Ellen Schafer) have publicly dropped out of the program, arguing that the school has gone back on its promises for funding, as Hyperallergic reported late last week.
Rather than receiving funding and teaching opportunities for both years of the MFA program, which the school has a reputation for providing, students were told, "we would receive a scholarship for some of our first­-year tuition, and would have a Teaching Assistantship with fully­-funded tuition, a stipend, and benefits for the entirety of our second year," the group's announcement reads. "We, the incoming class of 2014, were the first students since 2011 to take on debt to attend, and the first students since 2006 to gain no teaching experience during our first­-year in the program."
The controversy comes at a time when MFA program costs are rising even as their value becomes increasingly unclear, with new paths into the art world opening and traditional teaching jobs evaporating. "Iffy artist-teachers wield enormous artistic and intellectual influence over students, favors are doled out in power cliques," our senior art critic Jerry Saltz previously wrote of MFAs. "A lot of artists in these programs learn how to talk a good game instead of being honestly self-critical about their own work."
The number of MFAs being granted annually in the U.S. has risen over 15,000 in the past several years, according to The Atlantic. But artists still make up only a tiny 1.35 percent of the country's workforce. While the programs have a clear advantage in promoting networking and providing qualification for teaching jobs, there's an imbalance in the supply of MFA holders versus demand for their desired jobs. Students have to take on the risk that the degree won't solve their career problems even while taking on loans. 
Beyond debt, MFA programs are plagued by structural instabilities that were common at Roski. The school's MFA program director stepped down in late 2014 and was not replaced, and faculty have been leaving the program, feeling "devalued by the administration," the students write. Prolonged meetings with the administration have been contradictory, leaving the group to feel that dropping out is the only strategy left. It worked — their cause has gone viral, but the school disagrees with their complaints.
Roski "remains one of the most generously funded programs in the country. These students would have received a financial package worth at least 90 percent of tuition costs in scholarships and TAships," Erica Muhl, the school's dean, responded in a press statement. "I have met with the students at length and hope for an opportunity to continue engaging them in a full and open conversation."
While the school's offer might be generous by the standards of other MFA programs, the public conflict won't make great advertising for the already suffering reputation of visual art MFAs in general.